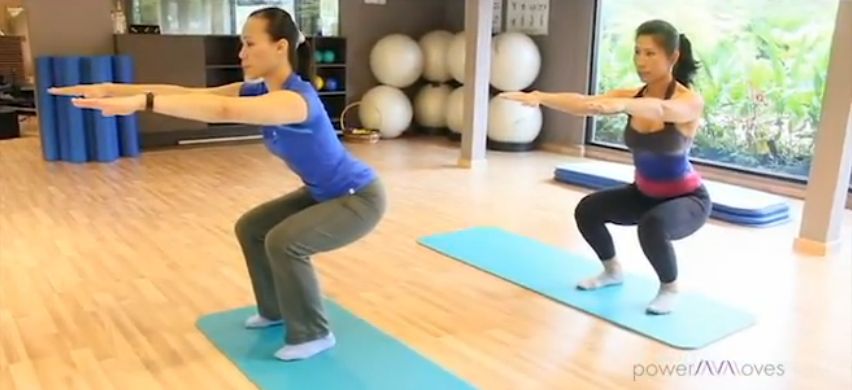 This exercise aims to tone leg muscles and provides a great workout for the core muscles and the entire lower body. It looks simple but should be executed with control and awareness. It can be made more challenging by incorporating small weighted Pilates balls, which will work to tone the shoulders as well.
Instructions:
Stand up straight with the feet about hip-width apart and the toes pointing forward. Tighten the abdominal and buttocks muscles. Stretch the arms out to the side, shoulder height with the palms facing down.
Bend the knees and come into a squat. Stick the hips back as if you are about to sit on a chair.
Press your heels into the floor, stand back up and lift your right leg up. The toes should be facing forward. Do not turn the leg out or in.
Lower the right leg slowly and with control so that the toes touch first and the heel last. Make sure you do not just drop the leg back down.
Squat down again and this time, lift the left leg as you stand back up.
Go back and forth for 8 to 12 repetitions. Do this with control.
To make this exercise more challenging, hold a weighted Pilates ball in your hand. As you lift the right leg, lift your right arm up to shoulder height, palm facing down as you hold the ball. Squat and lower both arms down. Pass the ball to your left hand. As you stand up and lift the left leg, lift your left arm up shoulder height.